Aunt Arctic is one of the famous characters of
Club Penguin
. Aunt Arctic is the author of the Club Penguin Times. She has her own section in the Club Penguin Times Called Ask Aunt Arctic.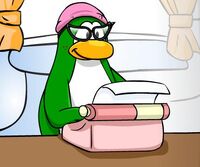 She has been in the Club penguin times since about 2005 or 2006, but has only been the director since September 2007.
So far, she has only appeared at the Penguin Play Awards and the Holiday Party 2009.
Characters of Club Penguin

Famous Penguins
Penguin Band Characters
Villains
Creatures
Puffles
Ad blocker interference detected!
Wikia is a free-to-use site that makes money from advertising. We have a modified experience for viewers using ad blockers

Wikia is not accessible if you've made further modifications. Remove the custom ad blocker rule(s) and the page will load as expected.