Herbert p. bear is a villian in club penguin. He is also a vegetarian so he does not eat meat, Eggs, Dairy products, or poultry. He has a Crab partner named Klutzy and Herbert has Appeared in both Club Penguin games, 'Club Penguin, Elite Penguin Force' And 'Club Penguin, Revenge of Herbert P. Bear' Herbert has plans that are always foiled by the EPF, or Elite Penguin Force. In the video games the players objective is to foil Herbert's plans and save Club Penguin. Herbert has been the culprit behind all of club penguins problems. In mission ten, Rookie accidentally let Herbert out as the player caught him in a cage. Herbert also Destroyed Club Penguin Headquarters in 2010.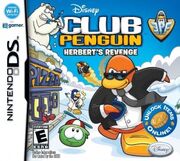 He Has a revenge and you need the DS game . Elite penguin force , Herbets Revenge
Ad blocker interference detected!
Wikia is a free-to-use site that makes money from advertising. We have a modified experience for viewers using ad blockers

Wikia is not accessible if you've made further modifications. Remove the custom ad blocker rule(s) and the page will load as expected.