This is about a thing which is no longer in Club penguin. If you want to find out about it, youv'e come to the right place!
The penguin play awards was an event that was actully around in club penguin when I joined! Yes! It was there in march, april time. Many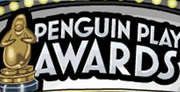 snow sculpters filled the land aswell.
This was the only members only event held at the stage.
Quest for the golden puffle was the winner and also has returned the most.
It has been comfirmed that there will be a penguin play awards in 2010.
See also
Edit