Hello! Today the new penguin style catalog came out! But I have to ask you 1 question:WHAT WERE THEY THINKING?!?!? I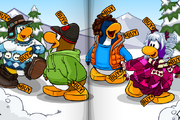 mean... Why are all the new items so twee? It was proberly because of disney taking over, but at least 1 old item came back:The pastel suede jacket. I've always wanted it, and can you guess what? Now I do.
Gourleyo --

06:02, February 5, 2010 (UTC)
Ad blocker interference detected!
Wikia is a free-to-use site that makes money from advertising. We have a modified experience for viewers using ad blockers

Wikia is not accessible if you've made further modifications. Remove the custom ad blocker rule(s) and the page will load as expected.